Thanks, Metropolitan Museum of Art. No, really-- I mean it. I have never liked you, though I have tried. Repeatedly over the years, I have tried. But last night you sealed the deal. I don't think I'm coming back for a very long time.
Admittedly this comes from an art fiend who primarily values contemporary artworks created from 1990 onwards. I'm not a big fan of the "aged," so there's not many times I feel the need to go to the Met-- antiquities be damned. But last night they opened a retrospective of one of my favorite artists of all time,
J.M.W. Turner
. But in this case, the Met has taken a disastrous turn, singlehandedly focusing room after room on one of the few reasons most afficionados enjoy him-- for his early to mid-career landscape and neoclassicist work.
Apparently the Met hadn't noticed that Turner is continously held up as one of the precursors, or forefathers of modern art; how, perhaps, maybe... just maybe... the soft hues of his backgrounds was singlehandedly the greatest influence on the soon to appear Impressionists; and how his stormy seascapes
en flambe
were Rothkos well before their time. Perhaps his "unfinished" works, (as they are continously referred to, but rarely shown), were perfection just the way they were.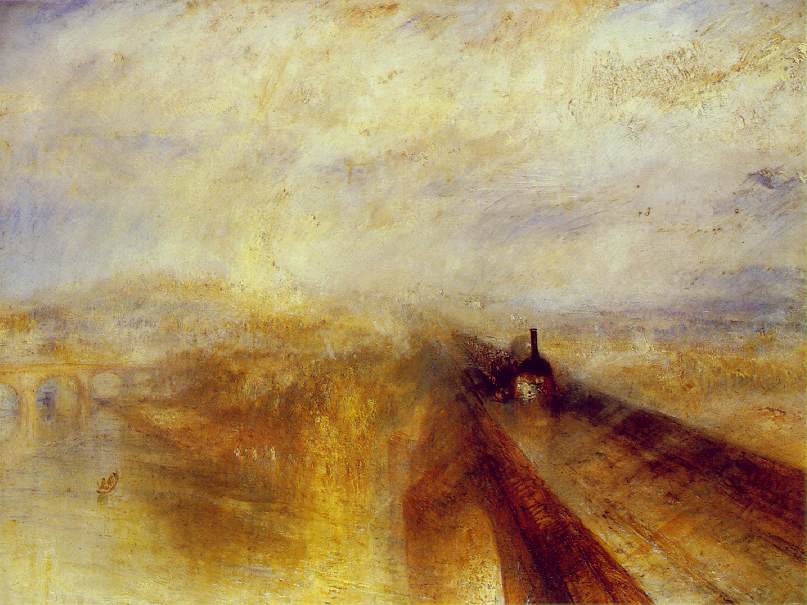 This has to be one of my all-time biggest letdowns for an exhibition. I honestly don't know what they were thinking, other than, "Let's make sure to make this the most academic focused exhibit of all." I am well aware that Turner was a magnificent landscapist, but the drama is lacking. For one, where was "
Rain, Steam and Speed: The Great Western Railway
." (depicted at right). I'm guessing the National Gallery of Art in London was not having any of it in terms of the risks of shipping this overseas. Part of what made Turner's later works so great was his focus on the industrial landscape vs. the previously stated naturalist one. There were few and far between works to rally 'round at this show.
Go for the Houses of Parliament burning-- (depicted at left) in the great Westminster fire of 1834. These numerous watercolors are truly worth seeing. It is action in observation, and thrilling. You truly feel at one with the artist-- in terms of the sheer horror of the destruction he witnessed firsthand. The works are awe-inspiring for their quick brushstrokes and rapid narrative quality.
My own personal favorite is depicted at the very top of this post-- "
Sunrise with Sea Monsters
." Interestingly enough, it is from 1845, still a full six years from the artist's death. A precursor for what was to come after, and a haunting piece for eternity. The creatures' gaping mouths wide open, tails thrashing about-- Odysseus perhaps facing the mouth of Scylla itself. This was
Turner
at his best. It's very unfortunate that the Met doesn't see this. This was literally the very last piece as you exited the show. Far from a focus being placed on what possibly could be his best work-- it was a complete afterthought. Sad, indeed.